Tuesday, February 15, 2011
Mount Vernon Nazarene University
Giving back to the Community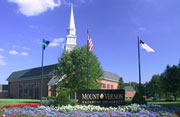 Students at Mount Vernon Nazarene University are dedicated to helping their community.
Mount Vernon is lucky to have 2,000 plus students who are actively participating in local homeless shelters, outreach programs, and mentoring activities. The university's mission promotes respect for others, positive influence and a commitment to giving. These Christian values gave rise to these great locally beneficial programs
"Friendsheep" where students are paired with residents of a nursing home. They read, listen, and play with elders to brighten their day.
"One Way" is a great program that promotes student talents in music, drama, and story-telling. The students perform around the community.
"Mandate" servers with urban ministries to raise awareness of urban issues. Small groups travel to inner-cities on the weekends to help with different organizations.
"Pumzika" raises awareness of homelessness by working with a variety of social service organizations and forming relationships with guests of Mount Vernon's homeless shelter, "The Sanctuary".
"Transition Mission" pairs students with developmentally delayed high school students to interact with.
Lastly, "Bookworms" trains college students by the Education Department to go to Columbia Elementary School to help kids learn how to read.
There are many more great opportunities, and Mount Vernon Nazarene University is just another reason why Mount Vernon is such a special town. The community is supported by each other, with many opportunities for involvement and growth. For more information about Mount Vernon, Ohio or Mount Vernon Nazarene University be sure to visit our community pages.