The Rastin Tower at Ariel-Foundation Park in Mount Vernon Ohio
Thursday, November 9, 2017
The Tallest Structure in Mount Vernon Ohio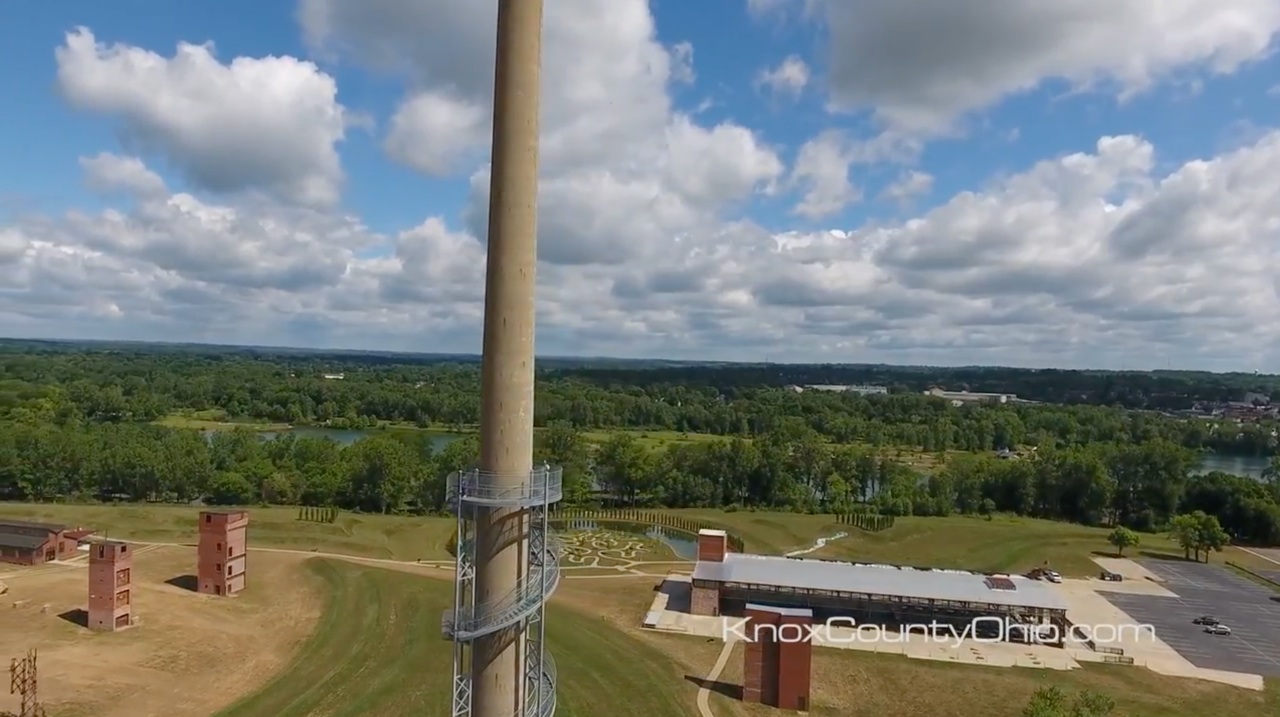 Towering 280 feet high, the Rastin Tower at Ariel-Foundation Park allows visitors to view the city of Mount Vernon, Ohio from a very unique perspecitve. Climb 224 steps high to reach its observation deck to take in the gorgeous views of Ariel-Foundation Park, Columbia Elementary School, and the neighborhood surroundings. The Rastin Tower was once the PPG smokestack until 1979 and is the tallest structure in town.
Light Up The Night Sky
Ariel-Foundation Park offers opportunity to those who would love to celebrate a certain loved one or special occasion by allowing people to be a Rastin Tower Lighting Partner. By application, you can choose from the following below, and have the tower radiate your choice of color(s) for either one night or an entire week.
$50 for a single color, one night

$75 for two colors, one night

$200 for a single color, one week

$250 for multiple colors, one week.
**The park needs a minimum of a week notice in order to prepare.
Renting the Rastin Tower and becoming a Rastin Tower Lighting Partner comes with an announcement on the Ariel-Foundation Facebook Page, a certificate with a picture of the tower and your color choice(s) mailed to the honoree, as well as a live web cam feed on the Rastin Tower Page of the Ariel-Foundation website with mention of the honoree.
Elevated Views
Below, we've shared with you a short custom drone video that provides a very unique perspective highlighting the Rastin Tower, gorgeous features of the Ariel-Foundation park, and the surrounding neighborhoods.
The Rastin Tower is located by the Urton Clock House on Pittsburg Avenue in Mount Vernon, Ohio, 43050.
If you love visiting Ariel-Foundation Park and climbing the Rastin Tower, check out the homes for sale in Mount Vernon, Ohio by clicking HERE!
This feature aritcle is part of our ongoing series titled 365 Things To Do in Knox County Ohio by Sam Miller of REMAX Stars Realty 740-397-7800.
#KnoxCountyOhio
#MountVernonOhio
#ArielFoundationPark