Tuesday, January 24, 2012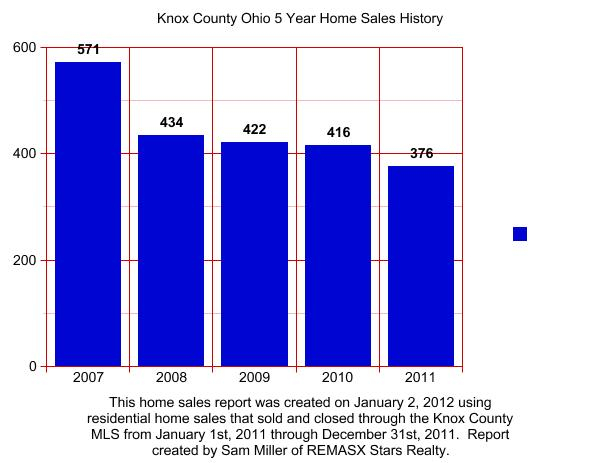 Home sales in Knox County Ohio started 2011 off with a slightly slower pace due to the unseasonal winter weather and snow conditions that lasted until April. The good news is that once the spring housing market arrived home sales jumped right back on track. 2011 was the year where we experienced some of the lowest 30 year mortgage interest rates that we have seen in more than 50 years. With the low interest rates came low monthly payments for those who qualified for a home loan and this spun the economic wheels and helped stimulate the Knox County Ohio housing market.
2011 was the year of the "1st Time Home Buyer" in Knox County Ohio. Our team and I experienced so many transactions in 2011 where we were helping a first time home buyer purchase and we were able to help them obtain a lower monthly payment on a home of their own than they were previously paying for rent in an apartment. Monthly payments today are still approaching a record low and there are still zero down payment and low down payment loans available today. If you have given any serious thought about buying a home now may be a good time for you because the asking prices of most homes are down and when you combine lower prices with record low interest rates you have the perfect combination for long term financing saves and the making of a great investment.
We have created some special real estate listing links that feature over 100 available homes: