Restored Steam Locomotive Along The Kokosing Gap Trail in Gambier Ohio
Monday, November 06, 2017
"Old 63" and The Chesapeake and Ohio Wood Caboose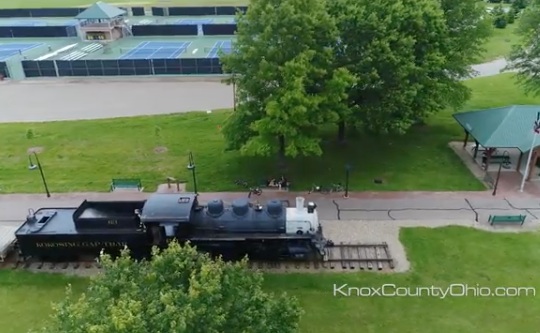 Constructed in 1940, engineers likely didn't know that they would be creating a locomotive that would be restored and put on display as a piece of history along the Kokosing Gap Trail in Gambier, Ohio. Once used for switching cargo in Alabama, this restored locomotive was transferred in 2001 and is now displayed nearby the Kenyon Atheltic Center or the "KAC" and is visited every year by many people. The Chesapeake and Ohio wood caboose was built in 1924 and was used by the trainmen to cook and eat their meals, watch the cars ahead, and where the conductor could do his paperwork. Donated to the Kokosing Gap Trail in 1997, the caboose was remodeled by volunteers who did substaintial work, and left all the lanterns, tools, stools, and locks authentic.
Above The Trail
Although visited by many, the unique perspective provided below has likely not been seen like this before. We flew our drone above the restored locomotive and caboose and captured stunning views of the caboose, locomotive, Kenyon Athletic Center, and gorgeous country views.
If you enjoy visiting the restored steam locomotive and walking the Kokosing Gap Trail, consider making Gambier, Ohio your new home. Click HERE to view homes for sale in Gambier, Ohio.
This feature article is part of our ongoing series titled 365 Things To Do in Knox County Ohio by Sam Miller of REMAX Stars Realty 740-397-7800.
#KnoxCountyOhio
#GambierOhio
#KnoxCountyOhioRealEstate