Wednesday, December 22, 2010
Our real estate team has been getting a tremendous number of requests for Knox County Ohio bank owned homes and available Knox County Ohio HUD homes. The interest has been so overwhelming for these types of homes that we created a specialized website called KnoxCountyBankOwned.com where you can register to receive bank owned homes and HUD homes by email. As I was working on our HUD homes update for our clients and customers I thought that others might be interested in knowing the locations of the available HUD homes in Knox County Ohio. Below is a screen captured image from the HUD website so you know this is current information as of 12-22-2010. I have also created a a list of the available HUD listings below in text format which will be much easier to view if you are using a handheld device such as a smartphone or iPad.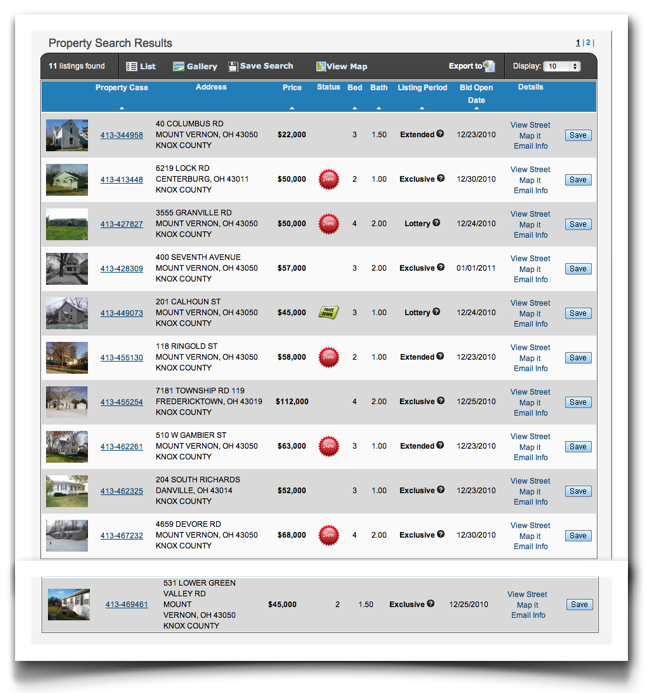 Mount Vernon - 40 Columbus Road for $22,000
Mount Vernon - 201 Calhoon Street for $45,000
Mount Vernon - 531 Lower Green Valley Road for $45,000
Mount Vernon - 3555 Granville Road for $50,000
Mount Vernon - 400 Seventh Avenue for $57,000
Mount Vernon - 118 Ringold Street for $58,000
Mount Vernon - 4659 Devore Road for $68,000
Mount Vernon - 510 West Gambier Street for $63,000 is IN CONTRACT
Mount Vernon - 109 North Catherine Street just SOLD and Closed
Centerburg - 6219 Lock Road for $50,000
Fredericktown - 7181 Township Road 119 for $112,000
Danville - 204 South Richards Street for $52,000
Mount Vernon Ohio Bank Owned Home at 112 Clinton Road for $55,000.
You may also view our regularly updated inventory of available
Knox County Ohio Bank Owned Homes
that are listed by The Sam Miller Team. We recommend that you bookmark this website link because we are adding new listings often in the current housing market.
If you are interested in viewing any of these HUD homes or any other Knox County Ohio property that has exceptional value please contact our team at (740) 397-7800 or feel free to e-mail us at samsells@sammiller.com.