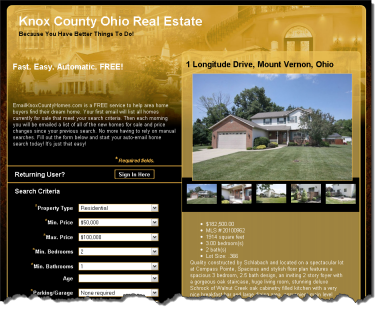 If you haven't tried our automated multiple listing search, it's time you did. Unlike other MLS services, our search engine is fast, free and gives you a backstage pass to listings in Knox County Ohio.
User-friendly and paperless, our Knox County automated MLS sends the results directly to your email inbox. After filling out your specifications, you will receive a list of all the homes currently available that meet your requirements. Anytime a home comes up for sale that fits your criteria, you will be one of the first buyers to know about it.
Our search allows you to combine your desired number of bedrooms with the number of bathrooms. You can search by property type and even by school district. Looking for some "elbow room"? Simply enter your desired acreage, anywhere from half an acre to 20+, and the Knox County Ohio MLS will do the rest. Maybe you want to find a home in the beautiful Apple Valley Lake area, just check the Apple Valley box and you'll receive a list of Apple Valley Lake waterfront or lake-view homes. By contacting the Sam Miller team, you can further customize your home search by floor plan, or style. Finding a ranch floor plan, for example, is easy once you've set up a search through the Knox County Ohio MLS.
Whether you're looking to move immediately or sometime next year, our Knox County MLS is current and complete, giving you more options during the home buying process. Organizing your search is easy – and free! – with our automated search.
If you are thinking about buying or selling a home in 2011, give us a call at (740) 397-7800 or send us an email to explore your options and to find out when is the best time for you to make a move.